Today marks ten bliss-filled, wonderful years that Scott and I have been together. For those of you that do not know how Scott and I met, we met on internet. I was going through some tough times ending a marriage and my oldest son had recently suffered a life threatening accident. As much as I wanted, and needed the Lord in my life, he wasn't front and center at the time.


Late one night, in a chat room using Comic Chat (I laugh even thinking about it now), I met this man. He lived in Connecticut, was divorced and had a 9 year old daughter. He was dating someone at the time and just seemed so genuinely nice. I remember time slipping away so quickly that night. I headed to bed and when I glanced at the clock it was 4 a.m! I couldn't believe it. I remember thinking to myself, "what a nice man!". He remembers me saying, "I don't cook"...heh! The rest is history. Nine months after that night, he left everything behind and followed his heart....to Florida. Then, two years later, on his parent's anniversary, in the center of Quincey Market in Boston he got down on one knee and asked me to be his wife. It was a moment when time stood still. It was December 16, 2000. The snow was falling outside and the sun was just rising. Shop keepers were opening up their stores and it all just seemed like a fairy tale. I felt like Cinderella when the glass slipper fit her foot. It's been that way for 10 amazing years.


I am no stranger to marriage and if I had not met Scott, would probably be giving Elizabeth Taylor a run for her money. But this man stopped me in my tracks. One of our first conversations was about the bible and God, and at the time, he didn't even go to church. But his knowledge so impressed me. He is everything I had ever envisioned a husband, and father, should be. He is smart, kind, loving, gentle, supportive, a hard worker and wonderful provider. (I will leave the more personal stuff out, but let me just add that the thought puts a smile on my face!)



The Lord used Scott to lead me back on that narrow path, that I had been missing for so long. After my Lord and Savior, Scott is the one that is my rock and my strength. When times are tough, he lifts me up and when there are moments of rejoicing, he magnifies those moments so that they appear 10,000 times better than they are. He is my prince charming who carried me away to a life that I could only have dreamed of. He took everything from me that has ever caused pain in my life and had sheltered, protected and loved me to no end. I am indeed the luckiest woman in the world.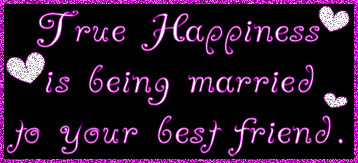 Honey,

I tell you often, but I want to remind you again that you are the biggest blessing the Lord has ever given me. You make everything so much sweeter than it is. I love how you love our children and what a fantastic father and husband you are.

The dictionary says that a father is a man who exercises paternal care over other persons; paternal protector or provider and the definition of husband is a master of his house. Well, your picture should appear next to both those definitions, with neon lights flashing all around you. Your children adore you because you have earned that love and respect. My family loves you and you know that I cannot fathom a day without you. Jesus has graced you with the cement that binds us together as a family. Without you, our home would only be a house. Thank you for ten incredible years. I love you more than words could ever say.

Forever your wife,